Review Spesifikasi printer epson L655 merupakan tulisan yang banyak di tunggu para pecinta pengguna printer epson, printer epson L655 merupakan printer Lseries tipe terbaru yang baru saja di luncurkan oleh PT.Epson Indonesia. Printer seri L-series terbaru L655 printer ini termasuk pada printer multifungsi (All-in-one printer) dengan dilengkapi juga fasiitas fax dan duplex.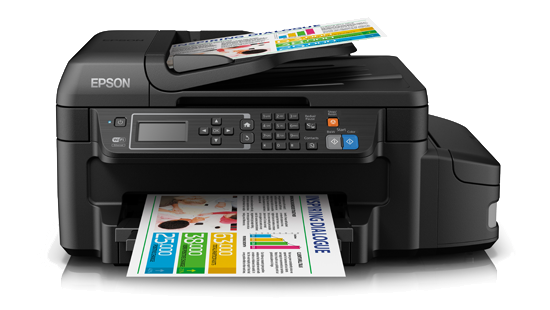 printer Epson l655
– Baca Juga Printer Epson Workforce Printer Epson L655 ini dilengkapi juga dengan koneksi sambungan wireless sehingga memudahkan proses cetak/scan melalui media selain komputer seperti laptop, mobile (android,ios,Tablet..) Kamera dan media lain yang memiliki jaringan ini. printer dengan tambahan jaringan nirkabel seperti ini semakin banyak di cari, karena di era internet seperti saat ini pengguna'an wireless lebih sering di pakai baik untuk pekerja'an ataupun bermain game. Tinta printer epson L655 ini menggunakan tinta dengan teknologi canggih yang di khususkan untuk pengguna'an printer l-series yaitu tinta seri M, tinta seri ini memiliki tinta hitam yang tidak akan luntur bila terkena air.

Kecepatan cetak printer Lseries l655 ini cukup gegas dengan teknologi kepala cetak yang baru dari printer epson, yaitu precisioncore head sehingga dapat menghasilkan cetakan yang lebih bagu dan tajam dari sebelumnya. kecepatan cetak printer seperti dilansir official web epson yaitu 13.0/7.3 ipm. Printer Epson L655 ini cocok di gunakan untuk pengguna'an rumah ataupun perkantoran, karena segala fasilitas di dalam printer ini mendukung semua kegiatan anda dengan trafik penggun'an yang tinggi maupun rendah.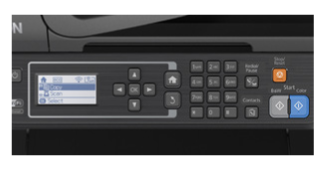 Lcd Screen Printer epson L655
Nah bagi anda yang ingin tahu lebih lengkap spesifikasi Printer Epson L655 dapat lebih jelas anda lihat pada tabel di bawah ini.
Baca Juga :Daftar Harga Printer Epson Terbaru
Spesifikasi printer Epson L655 dan fitur nya :
Model/Tipe Printer Epson
EPSON Lseries L655
Multifunction Printer
Yes ( Print,Scan,Copy,Fax)
Printer Methode
PrecisionCoreTM printhead
Resolusi Printer Printer Epson
4800 x 1200 dpi
Directional printing
Bi-directional printing, Uni-directional printing
Tetesan tinta terkecil
3,3 pl
Automati 2 Side print

Yes

Jumlah Nozle
400 nozzles Black, 128 nozzles per colour
LCD Screen
2.2 inch (mono screen)
Kecepatan cetak
Draft Text A4
33 ppm Black/ 20 ppm Colour
Kecepatan Iso Simplex
13.7 ipm Black / 7.3 ipm colour
Kecepatan Iso Duplex
6.5 ipm Black / 4.5 ipm colour
Cetak Photo default 4×6
69 sec per photo
Salin/Fotocopy
Copy Speed Iso A4 simplex
11 ipm Black / 5.5 ipm Colour
Maksmimal salin/fotcopy
99 lembar
Mode salin/Fotocopy
Standart / Best Quality
Maksimum Copy Resolution
600 x 600 dpi
Ukuran Kertas maksimal
A4, Letter
Memperkecil / Memperbesar
25 – 400% Auto Fit Function
Scan
Tipe Scanner
Flatbed Colour Image Scanner
Sensor Scanner
CIS
Resolusi
1200 x 2400 dpi
Maksimum Scan
216 x 297 mm ( A4 )
Kecepatan Scan
12 sec (Black) , 27 sec (colour )
ADF ( Auto Duplex Fiture )
Maks Doc Size
64 – 95 g/m2
Kapasitas kertas
30 lembar (75g/m2) & 3mm (Letter, A4) /10 sheets (Legal)
Fax
Tipe fax
Walk up hitam dan warna & warna fax capability
Memori fax
sampai 100 halaman
Mode koneksi error
ITU Group3 fax with Error Correction Mode
Kecepatan fax
33.6 Kbps, 3 sec / halaman
Kecepatan sambungan
Up to 60 numbers, 30 groups
Fitur Fax L655
PC Fax(Transmission / Receive), Automatic redial, Address book, Delay Send, Broadcast Fax (Mono Only)
Resolusi
Black 200 dpi / Colour 200 dpi
Power Consumption
Maks voltase
110 – 240 v
Konsumsi listrik saat Print
11watt
Konsumsi listrik saat sleep
1.5 watt
Konsumsi listrik saat off
0.3 watt
Informasi Umum
Kertas yang di handle
Legal, Letter, A4, B5, A5, A6, 5 x 7″, 4 x 6″, Envelopes: #10, DL, C6, C4
Mendukung Mobile and Cloud Printing
Epson iPrint, Epson Email Print, Remote Print Driver, Scan to Cloud, Apple AirPrint, Google Cloud Print, Mopria Print Service
Os yang di dukung
Windows XP / XP Profesional x 64 Edition/ Vista / 7 / 8 / 8.1 Max OS X 10.6.8 / 10.7.x / 10.8.x / 10.9.x
Konektifitas
Usb 2.0 , Wireless , ethernet, wi-fi direct
Ukuran printer
515 x 360 x 240 mm
Berat Printer
7.4 kg
Setiap botol tinta dapat melakukan pencetakan berkisar antara 6000 sampai 6500 lembar. untuk tinta hitam hingga 6000 halaman dan untuk tiga warna tinta dapat digunakan hingga 6500 cetak/halaman. Tinta Hitam ( C13T774100) = Rp.190.000 ,- Tinta Hitam ( C13T774200) = Rp.75.000 – 80.000 ,-
Tinta Hitam ( C13T774300) = Rp.75.000 – 80.000 ,-
Tinta Hitam ( C13T774400) = Rp.75.000 – 80.000 ,-
Baru : Rp. 4.830.000 ,-
Bekas : –
Sudah cukup paham kan dengan printer epson terbaru yang satu ini, selain itu pikiran printer ini cukup kecil sehingga mudah untuk diletakan dimana saja, dengan tampilan yang di seain simple dan modern. semoga pembahasan printer-hero dapat menyelesaikan penesaran kalian.
Incoming search terms: